Our actions (and inactions) may have historically unique consequences for humans living hundreds or even thousands of years into the future, but their rights and interests are rarely represented in current political and economic systems. Contributors to this symposium discuss the role of law in sustaining and improving life hundreds or even thousands of years into the future. This symposium is an outcome of the presentations at the 2022 Multidisciplinary Forum on Longtermism and the Law, co-organized by the University of Hamburg and the Legal Priorities Project.
Read all articles >>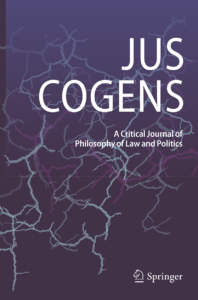 Volume 4,
Issue 2
---
July 2022
JUS COGENS
AND MORE ARTICLES…
9/11 hat sich zum 20. Mal gejährt. Welche Spuren hat dieses Ereignis in der globalen und nationalen Verfassungs- und Menschenrechtsarchitektur hinterlassen? Dieser Frage gehen wir gefördert von der Bundeszentrale für politische Bildung in einer Folge von Online-Symposien nach und bringen Rechtswissenschaftler:innen aus verschiedenen Regionen und Rechtskulturen ins Gespräch.
Read project's articles >>
Referendar_innen gesucht!
Subscribe and get our editorial via email!
Privacy
SORT
FILTER
Recently, politicians in different EU countries have suggested barring Russian tourists from visiting the EU. Such a ban would be in retaliation for the war waged by Russia against Ukraine. From a legal perspective, these suggestions raise the interesting question whether such a blanket ban would be lawful. From a legal perspective, the question is precisely whether there is a possibility to amend the existing acquis, in order to ban Russians from obtaining short term visas for the purpose of visiting Europe as tourists. It seems hardly tenable to argue that the EU (secondary) legislature is somehow bound by the ratio legis of the current Schengen visa system.
Continue reading >>
0
Load More Posts