Die Auseinandersetzung um die Legalität und Legitimität der Aktionen der Letzten Generation hat sich dramatisch zugespitzt. Mit den Ermittlungen wegen der Bildung einer "kriminellen Vereinigung" fährt der Staat schwere strafprozessuale Geschütze auf – und stellt damit ganz grundlegende Fragen in den Raum: Welchen Platz hat ziviler Ungehorsam im demokratischen Verfassungsstaat? Wo liegen die Grenzen zwischen regulärem Strafverfahren und unzulässiger Kriminalisierung? Und welche Rolle spielt das Klimaschutzgebot des Grundgesetzes in alledem?
Read all articles >>
The social media landscape is changing. The 'public forum' is now filled with citizens selling products, promoting services, charging for subscriptions, and sometimes seeking attention in ways which may not be socially desirable. We ask: How can a space that is becoming increasingly commercialised, monetised, and is a source of income for many nevertheless be fair? Departing from this foundational question, this symposium pursues many more granular ones, each anchored in whether and how the rights of users in social media spaces can be strengthened vis-à-vis dominant platforms via social media contracts.
Read all articles >>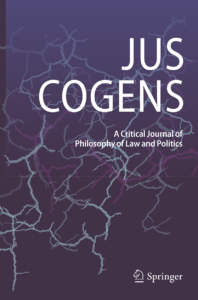 Volume 5,
Issue 1
---
October 2022
JUS COGENS
AND MORE ARTICLES…
SORT
FILTER
There has been a lot of noise around whether Hungary should, and legally could, be blocked from taking over the Council presidency in the second half of 2024, considering the state of the rule of law in the country. On 1 June, the European Parliament adopted a resolution, questioning Hungary's ability to "credibly fulfill" the tasks of a Council presidency and asking the Council to "find a proper solution as soon as possible", else Parliament could take "appropriate measures". Such concerns are legitimate, but another question seems to be sidelined in the debate: How much practical damage can the upcoming Council presidency under Hungary actually do in the EU?
Continue reading >>
0
Load More Posts