The SARS-CoV-2 pandemic has exposed the gross inequalities and inequities of health care access, as well as the symbiosis between human rights, health care, politics, economics, and the law. This symposium sheds light on the inequities and imbalances exposed by global pandemic response, and advocates recommendations on which principles should guide the framing and drafting of a potential international instrument on pandemic preparedness and response.
Read all articles >>
Die Fallout-Wolke verdunkelt den Himmel über uns, und wo sie sich entladen wird, weiß nur der Wind.  
Continue reading >>
The fallout cloud darkens the sky above us, and only the wind knows where it will unload its noxious cargo.  
Continue reading >>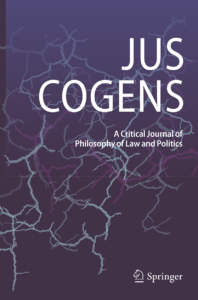 Volume 3,
Issue 2
---
September 2021
JUS COGENS
AND MORE ARTICLES…
9/11 jährt sich zum 20. Mal. Welche Spuren hat dieses Ereignis in der globalen und nationalen Verfassungs- und Menschenrechtsarchitektur hinterlassen? Dieser Frage wollen wir, auch im Lichte der aktuellen Vorgänge in Afghanistan und ihrer Konsequenzen, in einer Folge von Online-Symposien nachgehen.
Read all articles >>
SORT
FILTER
For many years, supremacy has been rationalized by the European Court of Justice and in the literature mainly with arguments relying on the effectiveness of EU law and on its necessity for resolving conflicts between Union law and the laws of the Member States. In light of the most recent supremacy-related decisions by constitutional courts in Poland and Germany, these rationalizations seem to have lost their persuasive power. Instead of relying on effectiveness or the equality of Member States, supremacy should be seen as being mainly grounded in the individual-centred non-discrimination standard anchored in Article 18 TFEU.
Continue reading >>
0
Load More Posts