Ukraine is under armed attack. What is under attack is not just Ukraine's sovereignty and territorial integrity, but also its political independence. To defend Ukraine is to defend constitutional democracy and the rule of law. This blog debate focusses on a central actor in Ukrainian constitutionalism: the Verkhovna Rada, Ukraine's Parliament. Examining the role of the Verkhovna Rada in armed conflict through a comparative lens, this debate, organised in collaboration with Stiftung Wissenschaft & Demokratie and the Institute for German and International Party and Parliamentary Law (PRUF), provides ideas for the Ukrainian context, and explores the issue more generally.
Read all articles >>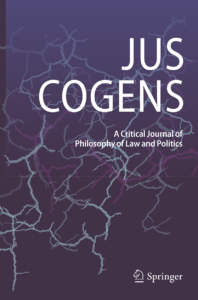 Volume 4,
Issue 1
---
April 2022
JUS COGENS
AND MORE ARTICLES…
9/11 hat sich zum 20. Mal gejährt. Welche Spuren hat dieses Ereignis in der globalen und nationalen Verfassungs- und Menschenrechtsarchitektur hinterlassen? Dieser Frage gehen wir gefördert von der Bundeszentrale für politische Bildung in einer Folge von Online-Symposien nach und bringen Rechtswissenschaftler:innen aus verschiedenen Regionen und Rechtskulturen ins Gespräch.
Read project's articles >>
SORT
FILTER
Am 28. Mai 2022 erhält das EGBGB erstmals eine eigene Bußgeldvorschrift. Das überrascht auf den ersten Blick. Bußgelder dienen eigentlich der Wahrung der öffentlichen Sicherheit. Doch die neue Vorschrift impliziert ein neues Verständnis des Verbrauchsgüterkaufs, das über den reinen Warenaustausch hinausgeht.
Continue reading >>
0
Load More Posts