Domestic and regional human rights courts around the world are under pressure. Populist, illiberal, or autocratic forms of governance have led to a global attack on constitutional democracy, and its guardians, courts. As a result, courts find themselves in a dilemma: should they intervene much more fiercely to uphold the rule of law or protect their institutional powers, but risk to be further attacked as enemies of the government and the majorities? Or should they practice judicial and prudential restraint to safeguard their institutional autonomy in the long term, but risk to be failing and regarded as foes by minority groups, civil society, and progressive movements who are on the receiving end of populist, illiberal or autocratic practices?
Read all articles >>
If things go badly, the upcoming elections in Brazil may be the last ones for some time to come. On election day, voters face a stark choice not just between two candidates, incumbent Jair Bolsonaro and former president Lula. They also cast their ballot on the peculiar brand of illiberal government known as Bolsonarism that will not disappear on election day even of Bolsonaro loses. This blog symposium discusses Bolsonarism at the ballot box from the perspective of comparative constitutional law and different varieties of constitutionalism.
Read all articles >>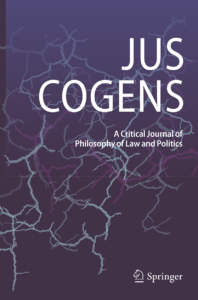 Volume 4,
Issue 2
---
July 2022
JUS COGENS
AND MORE ARTICLES…
9/11 hat sich zum 20. Mal gejährt. Welche Spuren hat dieses Ereignis in der globalen und nationalen Verfassungs- und Menschenrechtsarchitektur hinterlassen? Dieser Frage gehen wir gefördert von der Bundeszentrale für politische Bildung in einer Folge von Online-Symposien nach und bringen Rechtswissenschaftler:innen aus verschiedenen Regionen und Rechtskulturen ins Gespräch.
Read project's articles >>
Referendar_innen gesucht!
Subscribe and get our editorial via email!
Privacy
SORT
FILTER
The Hungarian government is trying to convince EU institutions that it is taking adequate steps to ensure proper spending of EU funds going forward. At the center of this effort is a new 'Integrity Authority'. The law establishing this authority, Bill T/1260, just passed the Hungarian Parliament on 3 October 2022. We have carefully read the laws enacted so far that establish a new anti-corruption framework and can confidently say that neither the Commission nor the Council should accept what the Hungarian government is offering because the proposed changes do not begin to alter business as usual in Hungary. In this blogpost, we will analyze the 'Integrity Authority' which forms the centerpiece of the government's program, showing that it is not independent from the government nor are its powers real.
Continue reading >>
0
Load More Posts