The SARS-CoV-2 pandemic has exposed the gross inequalities and inequities of health care access, as well as the symbiosis between human rights, health care, politics, economics, and the law. This symposium sheds light on the inequities and imbalances exposed by global pandemic response, and advocates recommendations on which principles should guide the framing and drafting of a potential international instrument on pandemic preparedness and response.
Read all articles >>
Über einen ebenso vergessenen wie faszinierenden Artikel im Grundrechtekatalog des Grundgesetzes
Continue reading >>
About one of the least familiar and most fascinating articles within the fundamental rights catalogue of the Grundgesetz
Continue reading >>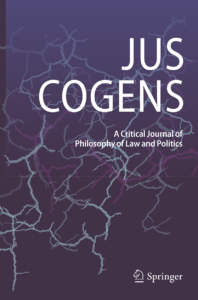 Volume 3,
Issue 2
---
September 2021
JUS COGENS
AND MORE ARTICLES…
Im Auftaktevent unseres Kooperationsprojekts mit der Gesellschaft für Freiheitsrechte, gefördert von der Bundeszentrale für politische Bildung, untersuchen wir welche Auswirkungen das auf 9/11 folgende, diffuse Sicherheitsframing auf internationaler, europäischer und deutscher Ebene hatte.
Continue reading >>
Subscribe and get our editorial via email!
Privacy
SORT
FILTER
Setting out new norms and arrangements for the provision of global public goods for pandemic preparedness and response should be a centrepiece of a new legal instrument that is capable of challenging market power, and builds on human rights principles in synch with the age of hyper-globalization.
Continue reading >>
0
Load More Posts