Wie ist es verfassungsrechtlich und politikwissenschaftlich zu analysieren und zu bewerten, wenn das Parlament "in eigener Sache" entscheidet? Welche Bedeutung haben solche Konstellationen für die Stabilität und Funktionsfähigkeit der Demokratie? Welche Mechanismen können den Konflikt entschärfen? Können aus der Verfassung bestimmte prozedurale Pflichten oder aber die Notwendigkeit der Einschaltung unabhängiger Akteure abgeleitet werden? Diesen Fragen will sich ein Blogsymposium des Instituts für Deutsches und Internationales Parteienrecht und Parteienforschung (PRUF) und der Stiftung Wissenschaft und Demokratie (SW&D) aus rechts- wie politikwissenschaftlicher Sicht widmen.
Read all articles >>
Die Tyrannei der Minderheit und was das Juste Milieu in Deutschland sich selbst über sie erzählt
Continue reading >>
The tyranny of the minority and what the juste milieu in Germany is telling itself about it
Continue reading >>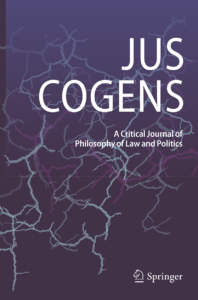 Volume 5,
Issue 1
---
April 2023
JUS COGENS
AND MORE ARTICLES…
SORT
FILTER
Since 2018, Swiss courts have become regular sites of criminal trials against climate activists who engage in various forms of non-violent protest to obtain effective climate action from their government and raise public awareness. Since the autumn of 2018, we have recorded approximately 30 non-violent forms of climate protest and civil disobedience across Switzerland, leading to at least 200 trials in Swiss criminal courts. In this contribution, we highlight three themes that have emerged in the trials of climate activists: First, the Federal Supreme Court has closed the door to the use of the necessity defense to justify civil disobedience in the name of the climate emergency. Second, at least some Swiss judges and courts are open to considering and applying the case law of the ECtHR. Third, the idea of civil disobedience remains deeply contested in the courts, as it is considered by the authorities to be antithetical to the Swiss model of democracy.
Continue reading >>
0