Our actions (and inactions) may have historically unique consequences for humans living hundreds or even thousands of years into the future, but their rights and interests are rarely represented in current political and economic systems. Contributors to this symposium discuss the role of law in sustaining and improving life hundreds or even thousands of years into the future. This symposium is an outcome of the presentations at the 2022 Multidisciplinary Forum on Longtermism and the Law, co-organized by the University of Hamburg and the Legal Priorities Project.
Read all articles >>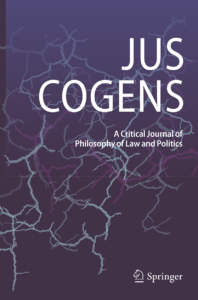 Volume 4,
Issue 2
---
July 2022
JUS COGENS
AND MORE ARTICLES…
9/11 hat sich zum 20. Mal gejährt. Welche Spuren hat dieses Ereignis in der globalen und nationalen Verfassungs- und Menschenrechtsarchitektur hinterlassen? Dieser Frage gehen wir gefördert von der Bundeszentrale für politische Bildung in einer Folge von Online-Symposien nach und bringen Rechtswissenschaftler:innen aus verschiedenen Regionen und Rechtskulturen ins Gespräch.
Read project's articles >>
Referendar_innen gesucht!
Subscribe and get our editorial via email!
Privacy
SORT
FILTER
Constitutions worldwide have seen the rise of future generations. Considering the 193 UN member states, Kosovo, Palestine, and Taiwan, 41% (81 out of 196) of constitutions explicitly referenced future generations as of 2021. We find that this trend started in the early 1990s, lagging behind environmental constitutionalism by two decades. Why do constitutions increasingly refer to future generations? Based on a comprehensive data collection including all constitutions ever written, we argue that future generations are a significant part of a modern, universalist language of constitution-making.
Continue reading >>
0
Load More Posts