The Ukrainian Wonder
Some things are so self-evident that we do not discuss them. We take them for granted. In Germany, for example, I can be confident that a new Parliament will be elected in four years time. If I were to question that amongst my friends, it would be strange. In the last three days, I have learned another example of that kind of self-evidence: Ukraine will win the war against Russia. Russia may "partially mobilise," "redeploy" troops, or hold "referendums", but none of these events will alter the self-evidence that Ukraine will win. I have been in Kyiv with Democracy Reporting International (DRI) since Tuesday and no one (really: no one) doubts that. I don't either. Because never before have I been so impressed by a city and its people; never before have I felt so clearly that I am in an European city whose pride and identity comes from being the antithesis of Russia's authoritarian vision.
Democratic Wartime Constitutionalism
The fact that Ukraine is facing a full-scale invasion is apparent only at second glance in Kyiv. In an almost discrete way, the infrastructure of war has spread throughout the city: dug trenches on the edges, filled sandbags and spray-painted city maps inside. The city is prepared for anything, but at the same time knows that Russia's troops will not come near it a second time. The basis for this certainty is clear after just a few conversations on the ground. The world has overestimated Russia and dramatically underestimated Ukraine. It is on the one hand a rusting, brutalised, and "out of date" state; on the other it is an agile, intelligent, and above all highly motivated democracy. This contrast pervaded all our conversations, but without being expressed directly. Our interlocutors, whether from politics, international organizations or think tanks, were already much further ahead in their thinking: they were talking about reconstruction and post-war order, about internal Ukrainian reconciliation and constitutional reforms, about EU accession and the international law of the future. It is taken for granted that Ukraine will win this war– and it would be nothing but a waste of time to start speculating on that question.
Early evening in Kyiv
Many of the issues discussed almost seemed technical at times: Committees establishing subcommittees to set up working groups. EU benchmarks to be met, legislative skills to be refined, and parliamentary rules of procedure to be reformed. But I believe that this is precisely where the real miracle of this terrible war lies. Ukraine not only persists as a democratic state with all its cumbersome procedures, but emerges from the war stronger as a democratic state. It's remarkable that this state is in the middle of a large-scale invasion and those around us are discussing: Rules of Procedures and Constitutional Reforms. And what's more, a large-scale survey conducted in August 2022 found that support for democracy as a form of government had actually increased after the war began. A Schmittian "state of exception", in which the role of parliament (being merely a "chatterbox" anyway) is displaced almost entirely by the executive? Not in Ukraine. Instead we see discussion, deliberation and democratic transformation. From the perspective of political theory and comparative constitutional law, all of this is fascinating. What we are observing here is democratic wartime constitutionalism in action. Something many would have thought impossible. I quickly realised that adhering to rules of competence, procedure, and form is not just a legal imperative. It is also an act of self-assurance; a common exercise that distinguishes Ukraine from Russia and is even strangely comforting.
All this does not mean that there are no problems in Ukraine from a democratic and rule-of-law perspective. As elsewhere in Europe there are multiple problems, be it the independence of the judiciary, the transparency of parliamentary work or pluralism in the media sector. There are interconnections between oligarchs and politicians, and there have been and continue to be violations and breaches in procedural matters (such as the appointment of judges). At the same time-and this is what is important-these problems are publicly identified, discussed, and sometimes even solved in such a way that they serve as a model for other states in the region in terms of the rule of law.
Himars instead of Hurghada
Being in Kyiv these days, however, does not only teach you about Ukraine. It also teaches you about its neighbours. First, there is Russia, whose dictator announced a "partial" mobilisation during our visit. 300,000 men (and likely more) are to be called to war – and suddenly Moscow's streets are full of demonstrators again. I used to be happy about every demonstration against the regime and took part in some myself in Moscow. But on Wednesday I reacted with anger. Where were you when the pictures of hundreds of executed civilians in Butsha went around the world? Where were you when the torture chambers and mass graves in Kharkiv and Izyum were discovered? Yes, it is good that people are on the streets, it is brave and deserves respect. But why does it take closed borders and the prospect of Himars missile launchers instead of vacations in Hurghada to drive people back on the streets?
In our first conversation, we were able to see yet again how deep the problem runs in Russian society. A woman told us about her family in Russia, with whom she was in contact in the first weeks after the invasion. Russian troops were stopped not far from her home. "It was close." She could hear the explosions and see people fleeing. Her family in Russia, however, didn't believe a word she said. This is not a war, they said, but a liberation. That's what the Russian news said – and that's how it would be. Such a radical form of disinterest and cynicism is frightening of course, as is the prospect of further militarisation of Russia. At the same time, however, it is clear to everyone here in Kyiv that Putin's "mobilisation" is nothing more than a last gasp. Russia is rusting and crumbling at every turn. It is a state that has never arrived in the twenty-first century and that is trying to keep its neighbours from doing so. While Ukraine is talking about democratisation, digitalisation and decentralisation, Russia in its current form will soon disappear. This is not only good. It is just.
Secret Admiration
Ukraine holds up a mirror not only to Russia, but also to us. When asked what could change in Ukraine after the war, the woman with the cynical relatives in Russia looked at us and said that much more important is another question: what must we do so that February 24 is not repeated? How can the slogan, "never again", be put into practice? The short-term answer here comes from everyone quickly: Ukraine needs more weapons. This is the only way to shorten the war and prevent further massacres by Russian troops. That's true – and it needs to be better understood, especially by the German government. In addition, however, we must also understand Ukraine's democratic transformation as our own. Many have been asleep while autocratic regimes have been emerging and consolidating in and around the European Union. In the European Union, Russia has been at the table for some years already. And in Germany, Gazprom has for years spun a web as fine as it is dense, spanning politics, business and law firms.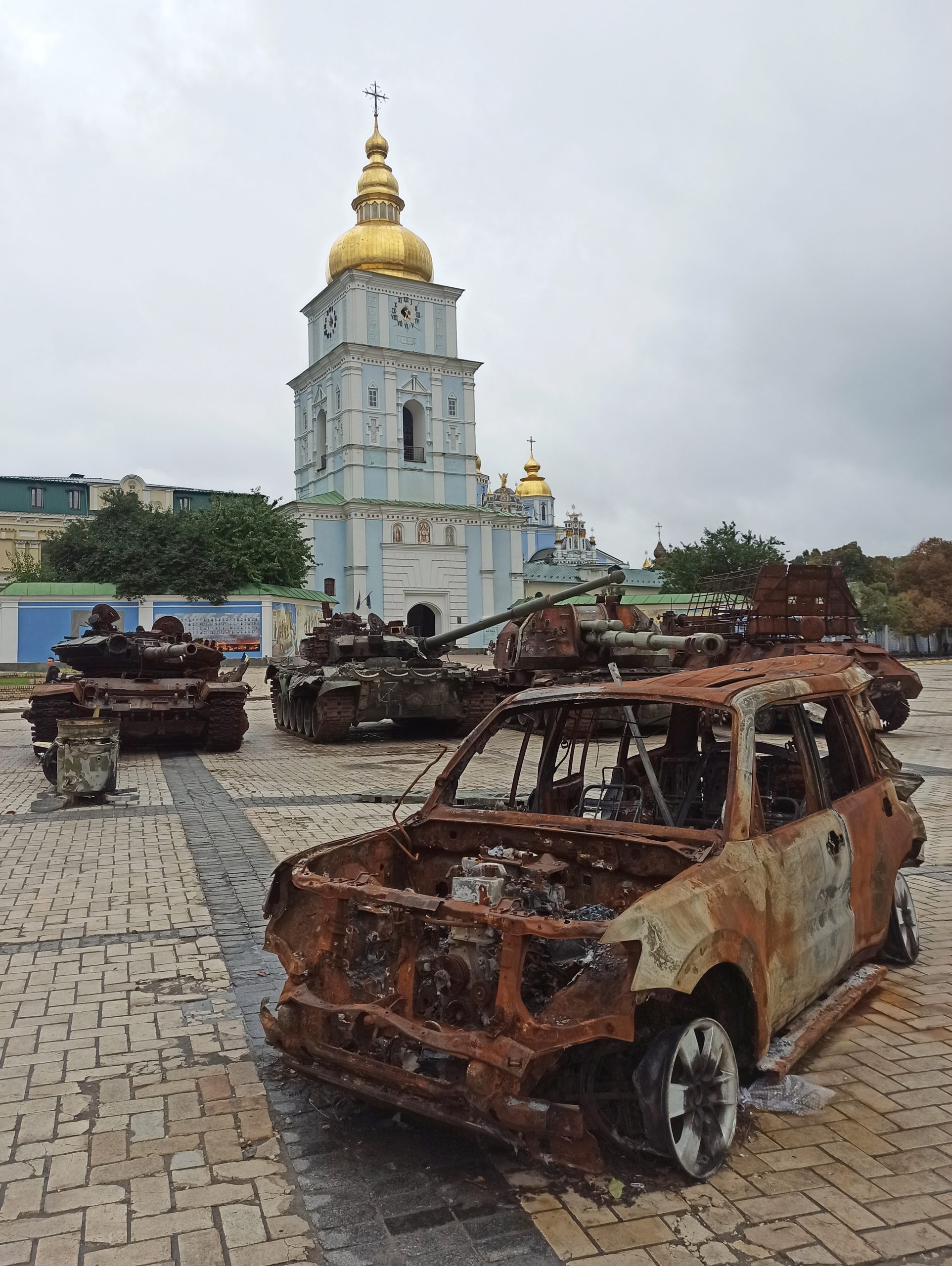 Rusting Russia, Saint Michael's Square
But the problem runs deeper. In Ukraine and other Eastern European countries, the language used toward Russia is unambiguous. There is no scope for understanding the "Russian soul" that many Germans openly or secretly admire. "Legitimate security interests" are called what they are: expansionist attempts by a highly dangerous regime. Germany's language toward authoritarian systems, on the other hand, is drowned out by the noise of its container ships and freight trains, even seven months after the start of the war. Substantial parts of the German economic model (brilliantly described as "Exportismus") not only feed off authoritarian systems, but also nourish them, be it China, Hungary or until recently, Russia. Taking democratic transformation seriously means no longer thinking of foreign trade in terms of trade surpluses and world export championships, but in terms of democratic alliances and security interests.
Europe's Heart
Russia's war of aggression has not only shaken the world, but has also shifted the coordinates of Europe. For a long time, Eastern Europe was a projection surface and an experimental field for rapid reforms. Somehow part of Europe, but somehow also an undefined space in between. Perhaps it is time to say goodbye to the concept of the East in Europe. Most certainly, however, it is time to admit Ukraine to the European Union as soon as possible. I have never seen such a passionate defense of the fundamental values of Article 2 TEU as these past days in Kyiv. Compared to some of the other EU member states there is no doubt: any state that successfully upholds democracy in times of war and occupation and emphasises the values of Art. 2 TEU is almost 'overqualified' for membership. No wonder, we are in Kyiv: the new heart of Europe.
Kyiv, 23.09.2022
The week on Verfassungsblog
… summarized by PAULINE SPATZ:
The European Court of Justice has declared German data retention to be in violation of EU law. MAXIMILIAN GERHOLD comments on the decision.
GLEB BOGUSH explains what the recent Russian escalation in the war against Ukraine means under international law.
BALÁZS MAJTÉNYI proposes a formula for the invalidity of amoral law which he applies to the current Hungarian legal system to demonstrate that it lacks in validity.
++++++++++Advertisement++++++++
This could be your ADVERTISEMENT!
You have a job to offer? Planning a conference? Want to publish a CfP? Advertise your book release?
What better way than booking an ad in the VB editorial – and support Verfassungsblog by it?
Interested?
++++++++++++++++++++++
GABRIELLE APPLEBY, after the death of Queen Elizabeth, looks at the current mood in Australia in terms of becoming a republic and how the process for such a change might look like.
The Mexican Supreme Court debates its power to scrutinize, whether constitutional provisions are constitutional. JAIME OLAIZ-GONZALEZ, DANIEL TORRES-CHECA & SEBASTIÁN INCHÁUSTEGUI believe, constitutional change is in the air.
Voters in the upcoming elections in Brazil face a stark choice not just between two candidates, they also cast their ballot on the peculiar brand of illiberal government known as Bolsonarism. In our new blog debate, PHILIPP DANN, CONRADO HÜBNER MENDES & MICHAEL RIEGNER, CLARA IGLESIAS KELLER & DIEGO WERNECK ARGUELHES, DANIELLE HANNA RACHED & M CECILIA OLIVEIRA, FLORIAN HOFFMANN, EVANDRO PROENÇA SÜSSEKIND, RAFAEL MAFEI and GERALDO MINIUCI discuss Bolsonarism at the ballot box from the perspective of comparative constitutional law and different varieties of constitutionalism.
So much for this week. Next week, as usual, you will get the editorial from Max Steinbeis.
All best,
Maxim Bönnemann
---
SUGGESTED CITATION
Bönnemann, Maxim:
The Ukrainian Wonder, VerfBlog,
2022/9/23, https://verfassungsblog.de/the-ukrainian-wonder/, DOI:
10.17176/20220923-230459-0
.