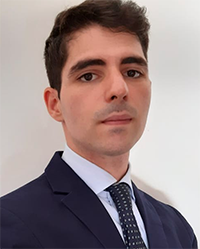 ABOUT THE AUTHOR
---
Giovanni De Gregorio
Giovanni De Gregorio (@G_De_Gregorio) is postdoctoral researcher working with the Programme in Comparative Media Law and Policy at the Centre for Socio-Legal Studies at the University of Oxford and Academic Fellow at Bocconi University. His research focuses on digital constitutionalism, platform governance and digital policy.
POSTS BY Giovanni De Gregorio
Oreste Pollicino, Giovanni De Gregorio, Marco Bassini
After months of waiting, the Facebook Oversight Board has upheld Facebook's ban of former President Donald Trump. Beyond the merits, the decision underlines a trend showing how the FOB is applying protections of free speech. The FOB's increasing reliance on the principle of proportionality and transparency is a paradigmatic example of an ever-growing distance to the First Amendment dogma characterising US constitutionalism and the proximity to the European (digital) constitutional approach.
Continue reading >>
1
Giovanni De Gregorio, Oreste Pollicino, Elena Perotti
Since July 2020, the global news media industry has been looking at Australia's draft code, that would force Google and Facebook to negotiate with news publishers, pay for news, share data and advertising revenues. Facebook, in response, decided to ban Australian publishers and users from sharing or viewing Australian as well as international news content. Soon after, the social media changed its view, once the Australian government decided to step back and negotiate with Facebook. This interaction is not just an example of how Facebook can influence public policies, but also shows how powers are relocated among different actors in the information society.
Continue reading >>
3
Oreste Pollicino, Giovanni De Gregorio
With the Facebook Oversight Board, we face a new age of private adjudication of online content, which promises an alternative system to enforce human rights on a global scale, while marginalising and hybridising constitutional values and democratic safeguards. Digital constitutionalism offers a framework to look at this new form of private adjudication of online content and its challenges. A look at the FOB's first cases is an opportunity peek behind the scenes of content moderation, as well as a laboratory to study the transnational challenges which the information society has raised to global (digital) constitutionalism.
Continue reading >>
0