Milestones
About the other things Verfassungsblog is doing
Most of you have probably long forgotten (if you ever knew), but Verfassungsblog has not only been busy acquiring, editing, and publishing texts, but has since March last year also been working on a project on Open Access funded by the Federal Ministry of Education and Research (for those who read German, here we have briefly summarized what the project is about). A lot has happened since we dived into this, and we've already accomplished a lot. But we still have a long way to go – and still need strong and more support to achieve our goals.
Legal scholarship is notorious for its reluctance towards open access. There is no way around the publishing houses for most legal professionals, especially if they pursue a career in academia. Publishers are slow to open up, and for authors, the book processing charges are higher with an open access publication. However, if you keep your eyes open, you will notice more and more OA projects in legal academia. From student-led journals to publication series to textbooks. These projects often have one thing in common: they emerge from within academia itself. And quite a few such projects are independent of publishers. This can have disadvantages in terms of visibility – at least until they are established –, but it also gives scholars more freedom and control over their projects.
Two symposia and one study
In the first year of our project called Open Access to Public Law, Georg Fischer explored the attitude towards OA in legal academia and conducted interviews with legal scholars at all career levels. As a sociologist and thus someone outside the legal academic life, he was able to approach the scholars unbiased and gain insights that perhaps many in legal academia are not so consciously aware of. The resulting paper is currently in the review process and we hope that it can soon be published – open access, naturally.
We have also been able to realize two blog symposia as part of this work package. The first one was still under the impression of the pandemic: when libraries are closed, access to academic literature, too, closes for most people. During the pandemic, many became aware of what it means to have open access to academic literature – or not to have it. In the blog symposium "Access in Lockdown", we were able to gather a number of perspectives and very different experiences.
++++++++++Anzeige++++++++

Max Planck Law connects ten Institutes in Germany and Luxembourg to form one of the world's largest frameworks for doctoral and postdoctoral training in law.
Find out more about our academic opportunities here and keep up-to-date with our numerous activities, including courses open to the public, by subscribing to our newsletter here.
+++++++++++++++++++++++++++
In the second blog symposium, "Open / Closed", we took a broader look at open access, both geographically and thematically. One focus here was on the difficulties that can come along with open access publishing and the access barriers that remain or emerge despite an apparent openness.
That money issue
The main goal of our project Open Access to Public Law is to finally find and build up a sustainable and solid funding for Verfassungsblog. Ultimately, however, this is not just about us. At the moment, everyone seems to be looking for a functioning model to finance academic open access publishing: publishers, scholar-led publications, and libraries. Verfassungsblog is a bit caught inbetween here. We are too small to be able to distribute our overhead costs like a publishing house can and thus reduce them, but we have high costs for our staff that are not invisible, as is often the case with scholar-led projects, since they do not factor in the work of professors, research and student assistants (if their work is paid at all).
We are now trying to fund our operations through library consortia. This means that we would like to convince university libraries and other institutions to financially support our work with an annual amount. From our point of view this makes sense, because after all we are a platform that mainly publishes contributions by scholars. The support we receive from <intR>2Dok in the form of DOIs and long-term archiving has proven to be indispensable in this endeavour – in addition to quality control –, as it is these things that make publications existent in the scientific landscape in the first place and keep them from just disappearing. Due to the project, we had and still have the time to find out which basic requirements an academic publication has to fulfill in order to even be considered for funding by libraries. We hope that with our findings we can make it easier for other publications that already exist or are starting up, by putting them in a position to include such essentials in their planning from the very beginning. A paper is yet to emerge from what we have learned and it will hopefully be helpful for the entire community. In our experience, much of the staff of the libraries and institutions are incredibly helpful, very open-minded towards OA projects, and support them. So if you are thinking about setting up an academic publication, then your library should be your starting point.
++++++++++Anzeige++++++++

Hybrid Conference: Access to Vaccines and Medical Care during Pandemics
TU Dresden and Stellenbosch University invite you to join us either in Dresden or online on the 11th of July to reflect on the Covid19 pandemic. We will examine, from the perspective of both the Global North and the Global South, whether existing legal concepts and frameworks, including their implicit ethical values, have proven successful in combating the pandemic. The focus will be intellectual property law, international law and constitutional law.
Please click here for further information.
++++++++++++++++++++++
Going ahead with small steps
Our cooperation partner Knowledge Unlatched has been working on the practical part of collecting the funding. Working at the interface between publishers and libraries, they specialize in crowdfunding OA publications through library institutions. The good news is that in the past year, 16 libraries and institutions have participated in funding Verfassungsblog (you can see here who is already paying for our work). This is a great success and we are glad that so many institutions (and their scholars) are convinced that Verfassungsblog's content is worth paying for. However, this is not enough. The goal is to secure 1.5 full time equivalents + overhead through consortia at the end of the project early next year. By now, we would have wanted to raise half of the amount, which we unfortunately did not manage to do. Just to briefly set the record straight: the 1.5 positions only cover the work on the blog timeline. What we actually need to be able to fund not only the blog timeline, but also the blog symposia and podcast, is 4 positions. And then, in addition to the editors, there are overhead costs, i.e. the technical infrastructure and maintenance, office spaces, and the salary of someone who is not part of the editorial team but manages and organizes the entire operation. Not everything should be financed by the libraries ans institutions, after all, Verfassungsblog ist also a journalistic forum with the podcast and the editorial. For these, we have to rely on other funders – which will hopefully become easier once Verfassungsblog is recognized as a non-profit.
We're not done yet
That was just a small peek into the eventful first year of our project. The second year is already in full swing and will be no less exciting. We can already reveal that we will be presenting both at the Open Access Days and the jurOA conference, both of which will take place in Bern.
It has been a year with a steep learning curve, in which we have met many dedicated and knowledgeable people. We have made some progress on our way to finally put Verfassungsblog on a solid financial footing. But we still have a long way to go before we're there. As a scholar or student at a German or European university, you can help us convince more institutions that Verfassungsblog has its place in the academic landscape and should keep it in the future.
Restoring Constitutionalism: Verfassungsblog-Panel at ICON's Annual Conference

At the beginning of this year we held a blog debate on one of the  most pressing questions in comparative constitutional law: How to deal  with a constitution which has been turned into a tool to perpetuate the  governing party's power even in the case of a lost election? How to  dispose of these undemocratic constraints without violating the rule of  law oneself? Scholars from all over the world participated in this  debate and shed light on various regional perspectives.
For this year's  ICON conference in Wrocław we have put together an online panel to discuss four regional perspectives which we found  both particularly fascinating and politically pressing: Turkey, Hungary, Russia, and Latin America. The panel with ROBERTO GARGARELLA, CEM TECIMER, DMITRY KURNOSOV, and CSABA GYŐRY takes place on 4 July 2022,17:40 CEST. More informations on the panel and the presentations are available here.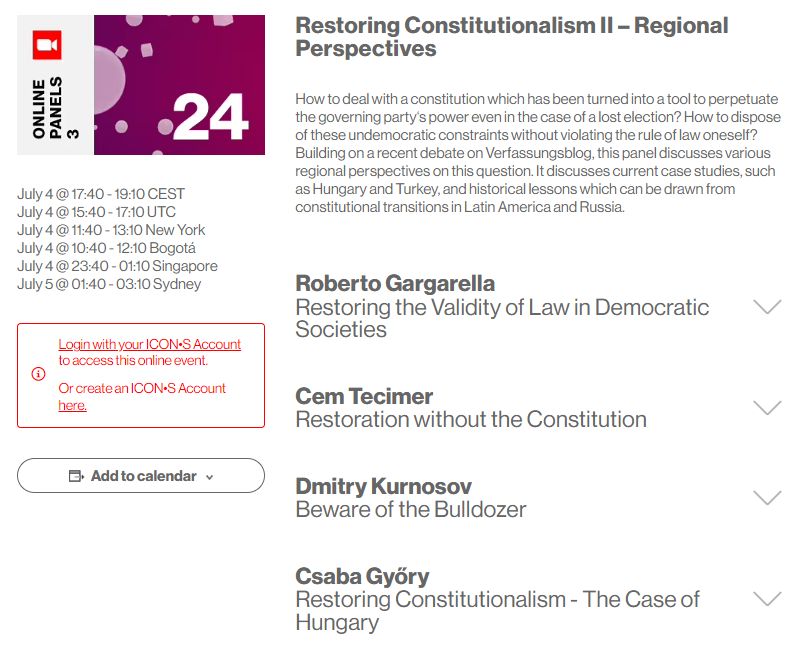 The week on Verfassungsblog
The U.S. Supreme Court has been making new headlines almost daily lately. The feared end of Roe v. Wade (here and here) has now actually come. Thus, the U.S. Constitution no longer guarantees a right to abortion, the Court held in Dobbs v. Jackson Women's Health Organization. SARAH KATHARINA STEIN takes a closer look at the dissenting opinions by the three liberal justices.
On the very day of the Dobbs decision, after years of wrangling, the German Bundestag decided to no longer criminalize the advertisement of abortions (Section 219a of the German Penal Code). VALENTINA CHIOFALO has looked at both events and argues that from an identity politics perspective it becomes visible why both events are fundamentally linked – and how certain positions in public debates can be pushed out of the discourse through strategic delegitimization processes.
In addition to ending the right to abortion, the U.S. Supreme Court recently overturned a New York State law restricting the "public carry" of guns (New York State Rifle & Pistol Association et al. v. Bruen, Superintendent of New York State Police). GÜNTER FRANKENBERG and FERNANDA NICOLA show how the decisions in Dobbs and Bruen are related – and why both follow a "logic of patriarchy."
The African Court on Human and Peoples' Rights has set a milestone for the rights of indigenous peoples. Not only by recognizing the Okiek as original inhabitants of the Mau forest and obliging Kenya to pay damages. AMBREENA MANJI shows why the details of the decision are so groundbreaking for other indigenous peoples.
Nicola Sturgeon, First Minister of Scotland, has announced plans to hold another independence referendum next year. However, there are no legal requirements for separation from the United Kingdom. NIKOS SKOUTARIS therefore argues for a right of secession for Scotland.
After the European Court of Justice had severely limited intra-EU private investment arbitration in the Achmea case, an arbitral tribunal has now declared for the first time that it has no jurisdiction to settle investment disputes within the EU. MARTIN GRONEMANN took a look at the decision and shows why an end to investment protection under the Energy Charter Treaty is nevertheless not to be expected.
An independent judiciary is a cornerstone of the rule of law, the developments in Hungary and Poland have made that all too clear. Article 19(1) TEU plays a crucial role in that regard and should therefore reflect the Court's case law, as TOMASZ TADEUSZ KONCEWICZ argues. He makes suggestions on how the treaty could be amended.
In a number of EU countries, governments are restricting civil society space, making it increasingly difficult for civil society to operate. A comprehensive strategic approach to working with civil society would allow the EU to more effectively combat growing illiberalism and ambivalence toward democracy, argue MÁRTA PARDAVI und BERNHARD KNOLL-TUDOR.
++++++++++Anzeige++++++++

Interesse an einer Promotion in einem einmaligen und weltweit renommierten Arbeits- und Forschungsumfeld? Die Abteilung Strafrecht des Max-Planck-Instituts zur Erforschung von Kriminalität, Sicherheit und Recht in Freiburg i. Br. (Direktorin: Prof. Dr. Tatjana Hörnle) sucht zum nächstmöglichen Zeitpunkt eine/n Doktorandin/Doktoranden (w/m/d). Die Doktorandenstelle ist der von Dr. Dr. Philipp-Alexander Hirsch geleiteten unabhängigen Forschungsgruppe "Strafrechtstheorie" zugeordnet.

Mehr Informationen gibt es hier.
++++++++++++++++++++++
Since the first of June, substitute prison sentences are once again being enforced in Berlin. In order not to endanger the penal system during the pandemic with the frequent admission of persons with short prison sentences, their execution was suspended several times. FRANK WILDE critizises the usefulness of substitute prison sentences and makes concrete proposals for a reform of the German criminal law.
The German Bundestag is currently making renewed efforts to regulate assisted suicide. How is assisted suicide actually regulated in other European countries? MICHAEL KUBICIEL recommends taking a comparative legal look, also to avoid repeating the mistakes of the past.
In order to relieve the population from rising energy prices, the German government recently passed an energy price flat rate. However, only employees benefit from this and therefore those who are not gainfully employed are treated unequally. The Sozialverband VdK is now taking the matter to the Federal Constitutional Court. MARJE MÜLDER on the prospects of success of the constitutional complaint.
The assumption that democracies have a certain potential for self-destruction is not new. Enemies of democracy can use their very institutions to pave the way to autocracy – step by step, subtly and even legally. For MICHAEL BAURMANN, the crucial question here is whether we may have been fundamentally mistaken about how strongly democratic and constitutional institutions are actually anchored among the people.
The German Constitutional Court recently reprimanded former Chancellor Merkel for violating her duty of neutrality. MARTIN WELSCH explains what this decesion has to do with Thomas Hobbes and Giuseppe Duso, and why the concept of democratic neutrality is based on a glaring constitutional contradiction.
Pluralism is a central prerequisite of the democratic constitutional state. But what do German legal scholars actually say about the concept? UWE KRANENPOHL examines this question and finds a "blind spot" – with which the Merkel ruling of the Federal Constitutional Court is also connected.
In a Bavarian school, soldiers were used as substitute teachers, supposedly "voluntarily, honorary and unpaid." TOBIAS CRONE is not convinced. He argues, that a private contract was established between the school and the soldiers, and that actually the school simply could have submitted a request for assistance.
We still need the support from all our readers. So if you aren't already doing so you can start supporting us on Steady today.
All best,
Evin Dalkilic
---
SUGGESTED CITATION
Dalkilic, Evin:
Milestones: About the other things Verfassungsblog is doing, VerfBlog,
2022/7/02, https://verfassungsblog.de/milestones/, DOI:
10.17176/20220702-172449-0
.